Nobody can defeat Sonam Kapoor for shedding exuberant '100 kilos' for embracing the first film 'Saawariya'helmed in Sonam's career. However, Kapoor's 'weight-shifting' phase was only possible under the big banner episode of Sanjay Leela Bhansali. The most sought after Bollywood fashionista who married businessman Anand Ahuja last year turns 34 today and we take you back to Sonam Kapoor's fashion goals and beyond whatever (she is) that had left us in an outburst of reverie.
Bollywood's "unwavering voice"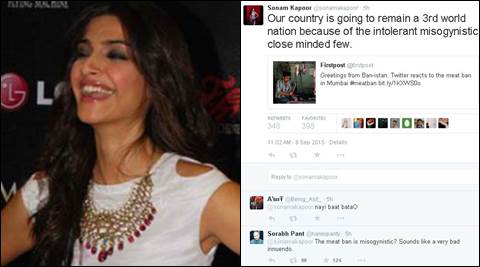 Sonam is millennials favorite B-town actress — the one who constantly barges opinions filling colors into the grey areas of the society. Be it a 'media interrogation' or sending' instant Tweets' — the Bollywood actress is often called out for coming out of the closet in support of certain imperative topics.
Bollywood's all-time "Fashion Goals"
Bollywood's fashionista Sonam Kapoor's fashion impressions go beyond #justgoals, while the actress is known to drop 'all jaws' on any occasion as she makes impressive 'public appearances' — Sonam's perfect OOTD pictures go viral within seconds. All thanks to the P-A-P-S as they swiftly turn their cameras embracing Sonam's best profile shots.
Sonam Kapoor never turns down any "private-affair"
This B-town's 'fashion babe' is so attached to her family and friends that she always comes to their rescue and enjoys every little moment with them. However, Sonam Kapoor is the best sister and a keeper anybody could ever have since she can save every little secret.